The selection of cottages, villas, and apartments at Lake Prince Woods lets you choose the residence that's right for you. Offering affordability and outstanding value, Lake Prince Woods, located in the Hampton Roads area of Virginia, has the lifestyle many people are seeking. Designed to give you a maintenance-free life, you will no longer worry about mowing the lawn, cleaning the gutters, or raking leaves. You don't even need to worry about finding a reliable repairman; we take care of that for you.
Independent Living Options
Reclaim your retirement life at Lake Prince Woods! When new residents move to Lake Prince Woods, they often wish they moved sooner to enjoy hassle free living and to live life on their terms. Rediscover the things that bring joy and excitement which supports a thriving life.
Depending upon the desire of a prospective resident, our community offers apartments, villas or cottages. The Marketing Department works with you to discover which option best meets your interest.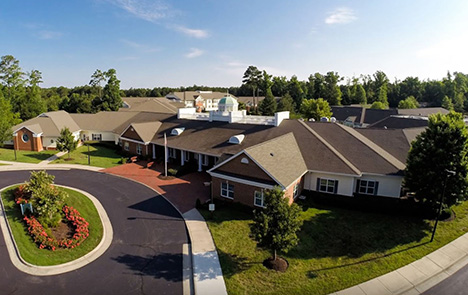 Apartments
Located at the heart of our community, the apartments offer one or two bedroom designs with many floor plans to choose from. Living in an apartment puts you in close proximity to all activities and dining services.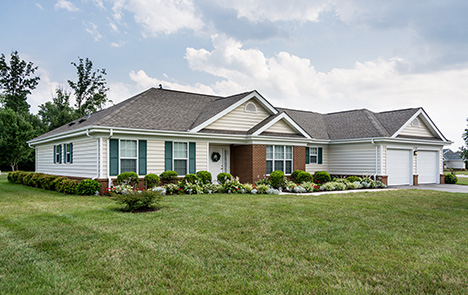 Cottages & Villas
The cottages and villas at Lake Prince Woods are located throughout the 172-acre wooded campus and have floor plans ranging from 1,350 to 1,750 square feet. Choose from options such as double garages, sunrooms, screen porches, and other outdoor living areas.
Continuing Care Services at Lake Prince Woods
With mission-driven focus, Lake Prince Woods offers compassionate health care services that include assisted living, healthcare, memory care, and rehabilitation.
Lake Prince Woods offers compassionate care to meet the physical and safety needs of each person. For some that care may be delivered in the comfort of their home through home care service while others may need more assistance.
The benefit of a Lake Prince Woods lifestyle is the access to different levels of care when a resident needs it. This means that residents may utilize short-stay or respite services while recovering from an illness or surgery. Or residents who need additional care may move to a longer term setting on campus for assisted living or memory care. Should a couple have differing care needs, both can live on the same campus and be within a short walking distance from the other. The importance of the Lake Prince Woods lifestyle is resident access – care at the right time, in the place they desire and are close to friends and family.
Assisted Living at Lake Prince Woods offers a blend of help for those requiring assistance with daily activities such as bathing, getting to and from meals, dressing, and taking medications. Residents enjoy having their own furnishings in a private room. Activities, outings, and special events provide social engagement and enrichments.
A monthly fee includes 3 meals per day, housekeeping, personal assistance, and social and recreation activities.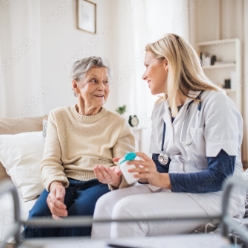 With a cozy setting and the comforts of home, The Cape Health Center offers short-term rehab including therapy and nursing care needed following surgery or recovery from an illness. Here, a resident works on re-gaining skills to support return home as safe as possible. When a resident has long-term needs, The Cape provides personal and medical support to enhance their quality of life. Our Medicare certified nursing center offers a full array of services to meet the medical needs of each person.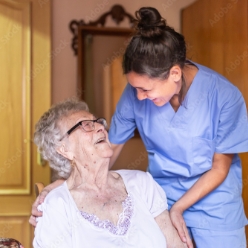 Lake Prince at Home is a Medicare certified home health and hospice program that allows a resident to remain in their home while recovering from an illness or condition. Services include nursing and therapy services provided on a temporary or long-term basis.
Our professional staff provides personal and medical support to enable our residents to enhance their quality of life.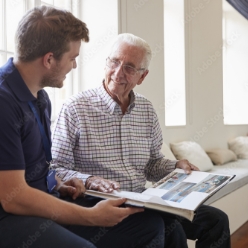 Memory Care at Lake Prince Woods serves residents who have Alzheimer's disease or other types of dementia. The caring environment provides each resident a private room with 24-hour care including access to the outdoors in a lovely courtyard.
A daily rate covers a resident's meals, housekeeping, 24-hour nursing care and supervision, and activities geared for people with dementia and memory loss.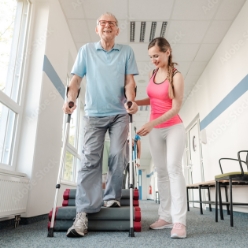 Physical Rehabilitation & Therapy Services
Our goal is your goal: getting you back on your feet, enjoying the things you love. Lake Prince Woods rehabilitation care offers personalized treatment.
Short term rehab services offer comprehensive care for those who are recovering from surgery including joint replacement, serious illness or injury, fractures, stroke, and other medical conditions. A caring staff trained in physical, occupational, and speech therapy works with each person to help them reach their highest potential.
Pre-Registering for Services
Lake Prince Woods makes it simple for anyone to pre-register for short-term rehab or respite services at the Cape Health Center. Simply complete this form and a member of the Transitional Services Team will follow up on the next steps.
Pre-registering for services allows a patient to choose a short-term rehab provider prior to a surgery or in-patient acute admission. Patients are able to focus on recovery, knowing the transition to short-term rehab has already been determined.
Rehabilitation Pre-Registration Form
Download Our Cost Comparison Tool on The Benefits of Living in a CCRC.
A variety of expenses are included in the entrance and monthly fees for Lake Prince Woods. Our cost comparison tool is available for download as a part of your discovery of the Lake Prince Woods lifestyle. Love the location, live the lifestyle!